Call-to-action buttons or CTA buttons are located on landing pages and are used to help guide visitors in the direction of your goal conversion. Common call-to-action buttons are free trial sign up buttons, download buttons and add to cart buttons.
Each CTA button is designed to get visitors to take action and click. Make your website's call-to-action buttons more appealing and boost your returns by using these 5 tips:
Top Five Ways to Make Your CTA Buttons More Effective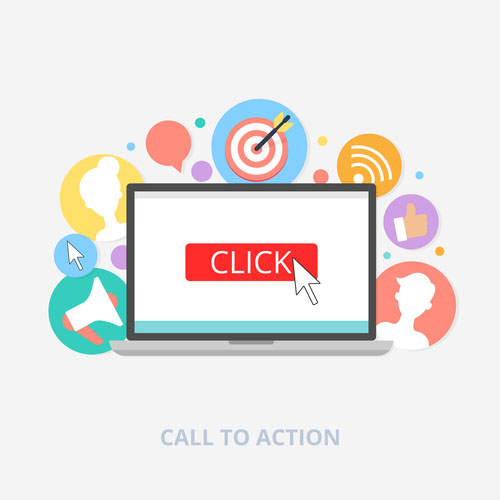 1. Make it easy to read- Seems like a no brainer, but do keep in mind that not everyone has perfect eye sight, so make your buttons are large enough and easily noticeable.
2. Develop a sense of urgency- A great way to boost your click through rate is by creating a sense of urgency on your buttons. By using text such as "Limited time offer" or "Sign up today for a 50% discount" you are driving visitors to act now, instead of waiting until later.
3. Utilize graphics- One great way to draw attention to your CTA buttons is by using clever graphics. A fun looking arrow or character that points to CTA button, is a great way to draw attention.
4. Use first person speech- Increase your click through rate is by using first person. Believe it or not, this is a proven fact. Instead of writing "Get your free offer", for example, use the first person and write: "Get my free offer".
5. Keep it short and keep it simple- When designing your CTA buttons you shouldn't be going on and on with long sentences of text leading to your CTA buttons. Keep any associated text on your landing page simple and to the point. By keeping it short and sweet you will avoid any un-needed confusion and unable your potential consumers to click through faster.
Get Help from the Professionals
A great way to make your landing page and call-to-action buttons look great and preform efficiently is to get help from a professional. At Adeo Internet Marketing, a Montreal web design company, we have been helping a vast selection of companies create and market appealing and successful websites and marketing strategies. We can help you get your project off the ground and running smoothly with our creative design specialists and experienced marketing staff. See your conversion rates go up today, give Adeo internet marketing company a call!