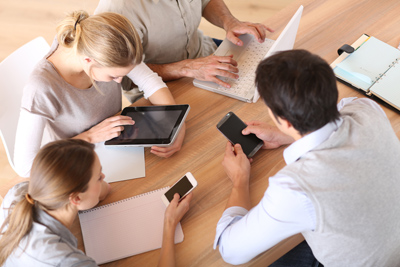 Take a moment to think about how many different screens you use in a day; and you'll quickly realize that the days of surfing the web exclusively on a desktop or laptop are long gone. According to research conducted by Google in 2012, consumers use mobile devices for over ⅓ of their daily online interactions. Furthermore, using a mobile device for online shopping, according to this research, significantly changes consumer spending behavior almost always in favor of the seller. These facts, along with a few others that were also revealed in Google's study, are not only changing how consumers search for information and make purchases, they're completely changing how companies design their screen-based online presence.
One Person, Many Devices
It's now completely common for one individual to get online using two or even three different devices over the course of a single day. Google's study points out that the majority of consumers will engage in sequential screening or using multiple devices to complete a single task. They'll often do some initial research using a smartphone when an idea enters their head, then use a PC or tablet later the same day to do some more fact finding or make a purchase. In fact, online shopping is one of the most common sequential screen activities.
It's important for retailers to understand that many consumer interactions begin on a smart phone. Now, businesses are obligated to afford a smooth and enjoyable smartphone-based information seeking experience to potential customers. Think about your own smart phone web browsing, and you'll know that it's incredibly frustrating to have a poor user experience while using the internet on a smart phone. Businesses could possibly lose potential customers if their mobile interface is poor. This has heightened the need for responsive website design to accommodate viewings on screens of different sizes, as well as apps that are designed to work specifically for and exclusively with mobile devices. It all comes back to creating a positive brand experience: if a smart phone-based interaction is easy and enjoyable, consumers are more likely to stay on a particular website and make a purchase.
More Implications For Businesses and Consumers​
The increased use of smartphones for internet use has led to more spontaneous shopping. We think of something, we look it up on our phones, we tap the purchase button, and the item is on its way to our door. More and more, we do this without really thinking about what we're buying. Sequential screening may often lead to online purchases, but the same Google study found that on a smartphone, 81% of purchases are spur of the moment buys, as compared to only 58% on a PC. That's a huge difference!
The bottom line is that when consumers use their mobile devices, they want information — and products — quickly. This has created an enormous new emerging market for all businesses to be aware of. To stay competitive, any company with an online retail component must take advantage of the opportunity to capture their share of the mobile impulse shopping market. Now is the time for businesses to optimize their user experience, no matter what device their potential customers use.
Help From the Experts
Montreal-based Adeo Internet Marketing can help businesses develop a successful mobile web presence with responsive design and great content. Contact us today at (877) 841-5386, and let's talk about how we can help boost your online commerce.